Sevilla - Andalusia, Spain

Sevilla - Andalusien, Spanien

Siviglia - Andalusia, Spagna

Sevilla - Andalusië, Spanje

Seville - Andalousie, Espagne

---

Costaleros "uncovered"
Semana Santa in Seville, a look behind (under) the screen: Costaleros (carriers) uncovered.
The Costaleros are the men that do the hard work of carrying the floats around during Semana Santa. All that time they go practically unseen, because they are covered. But in the months before Semana Santa, when practicing the different and sometimes very difficult movements (rythm, accelaration, turns, jumps...) they are not. Here you have a first impression of life under the float, as a small tribute to these almost anonymous protagonists of Semana Santa: the Costaleros uncovered.
Pictures of Costaleros "uncovered"
Video Costaleros "uncovered" view from above - "pre"Semana Santa 2013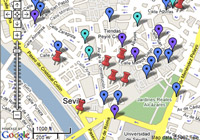 ---
Sevilla - Granada - Cordoba
Málaga - Cadiz
---