Cartusian Monastery- Seville
Monasterio de la Cartuja
El Monasterio Santa María de las Cuevas de la Cartuja (Cartusian monastery) on the right bank of the Guadalquivir river dates from the 15th century.
Today the Cartuja is also home of el Centro Andaluz de Arte Contemporáneo - CAAC (Andalusia Contemporary Art Centre).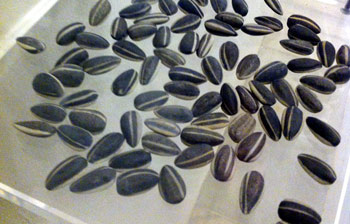 Close-up of Ai Weiwei's porcelain Sunflower Seeds
(pipas, in spanish)
Pottery and porcelain factory
Due to the abundance of clay, numerous pottery kilns had already been installed on these grounds during the Almohad dynasty of the 12th century.
The six high chimneys that dominate the view from the city-center are part of the earthenware and porcelain factory that was set up in 1841.
Centro Andaluz de Arte Contemporáneo
Andalusia Contemporary Art Centre
The centre presents an overview of the artistic trends that developed in Spain from the mid-20th century through to the present day. The collection includes pieces by Luis Gordillo, Candida Höfer, Rebecca Horn, Pablo Palazuelo, Zobel, Joseph Kosuth and Louise Bourgeois, amongst others.
The Andalusia Contemporary Art Centre also organises a series of themed exhibitions based on works from its own or foreign collection which take a look at some of the most relevant issues in contemporary aesthetic creation.
Other important monuments in Seville:
Seville - The Giralda tower
Seville - The Cathedral
Seville - The Alcazar palace
Seville - The archive of the Indies
Seville - Plaza de España
(best viewed with Firefox or Chrome or see big map)

monuments,

hotels and

apartments in Seville
(Latitude, Longitude) zoom of the map: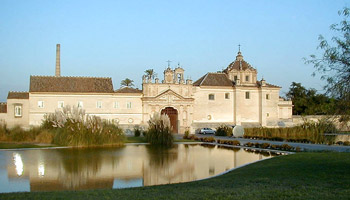 Main entrance of the Cartusian Monastery in Seville
Other important monuments in Andalusia, South of Spain: