Archive of the indies, Seville
The construction of this building began in the 16th century to be used by traders for their commercial transactions.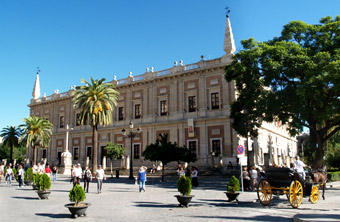 In 1785, the premises became the headquarters
for the General Archives of the Indies when structural changes were made to accomodate the numerous files and documents.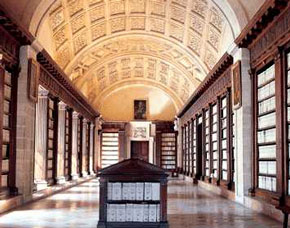 The archives of the Indies contain references to Spain and her foreign possesions between the 15th and 19th centuries.







Inside, this sober Renaissance, building is a superb marble 18C staircase.

Other important monuments in Seville:
Seville - The Giralda tower
Seville - The Cathedral
Seville - The Alcazar palace
Seville - The archive of the Indies
Seville - Plaza de España
(best viewed with Firefox or Chrome or see big map)

monuments,

hotels and

apartments in Seville
(Latitude, Longitude) zoom of the map:

On the upper floor, large rooms with superb vaulted ceilings contain countless documents relating to the discovery and the colonisation of America. There you will find the signatures of Christopher Columbus, of Magellan, of Cortès, etc.



Other important monuments in Andalusia, South of Spain: