Beaches of Bolonia, Costa de la Luz

Hotels in Zahara de los Atunes >>>
Bolonia is a beach that has very little construction done, in fact there isn't even a hotel, but a ruin shows that the romans already liked this place.
Its large unspoilt beach is almost 4 km in length and has golden sand. It is a windy beach with moderate waves and crystal clear blue water. There are generally very little people, since there are no hotels, so massification hardly occurs.
However, the comunity of Tarifa recently decided they now will allow massive construction of a giant tourist complex on the Valdevaqueros' part of Bolonia's beaches.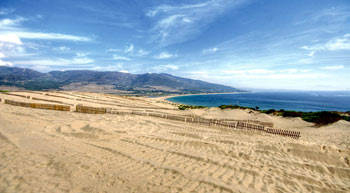 Sevillaonline supports the petition to save this beach.
Changel.org Save Valdevaqueros (externe link)
Valdevaqueros beach is to the left of the small urbanization of Bolonia while to the right you find a beautiful sand dune that stands over 30m in height and was declared a natural monument by the environmental council because of its exceptional characteristics.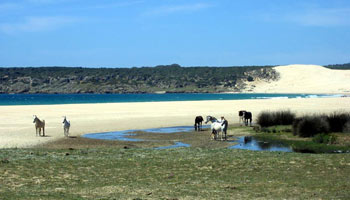 Surrounded by pine trees, sand dunes and other vegetation it is considered to be one of the best beaches on the coast of Cadiz. Its facilities include secure parking, seasonal beach bars, restaurants, police patrols and signposts, Red Cross stations, toilets, showers, changing rooms, rubbish bins and hammocks. The nudist section is at the most southern part of the beach which is to the left hand side when looking out to the sea.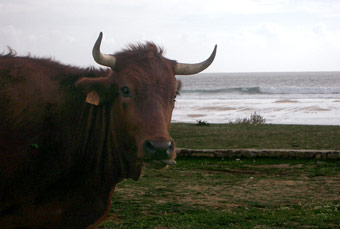 "Toro en la Playa" Bolonia, Costa de la Luz
Hotels in Zahara de los Atunes >>>
The roman ruins of Baelo Claudia
Right next to the beach you can find the archaeological roman site of Baelo Claudia. In 1917 archaeologists unearthed these ruins of what seems to have been a prosperous roman city.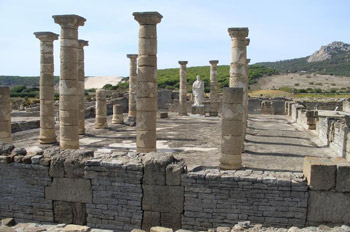 These remainders show that this beach was already apreciated thousends of years ago... It was built according to the classical rule of Rome and the style of the city conformed to a perfect urban plan. These ruins in Cadiz are the best known example of a well preserved Roman city.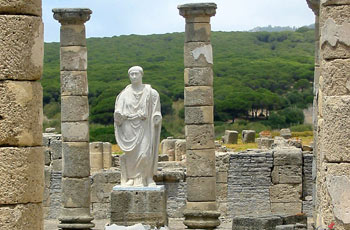 Towns on the Costa de la Luz in Cadiz province,
from north-west to south-east: