De provincie Malaga - Andalusië, Spanje
Malaga is natuurlijk voornamelijk bekend om haar kust, de beroemde Costa del SOL met zulke bekende badplaatsen als Torremolinos, Benalmádena, Fuengirola, Marbella of Estepona.
(de rest nog in het Engels, sorry)
Malaga city
Málaga is a bright and cheerful city of many gardens surrounded by charming, Arab influenced, Andalucian architecture. Malaga city offers the visitor the opportunity to experience its one thousand years history, forged between the mountains and the sea.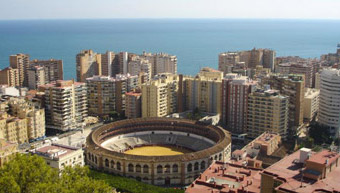 Plaza de toros Malaga - Andalusia, Spain
In a few minutes walk, one can visit the Roman Theatre , be amazed by the Arab Alcazaba fortress, admire the majesty of the renaissance Cathedral and then soak up the lively atmosphere of the adjacent streets.

Malaga is the birthplace of the famous painter, Picasso. Make sure you visit the Picasso Museum.
The town of Ronda, at about an hour from Malaga city and less than 30 minutes from Marbella, is one of the most historical and romantic towns in Andalusia. Around it your find the beautiful Serranía de Ronda natural area.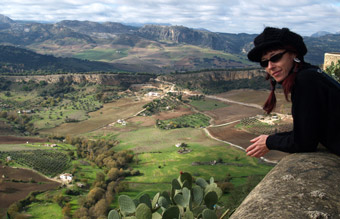 Uitzicht vanaf het balkon van Ronda, Malaga - Andalusië
The Serrania (mountain range) of Ronda is part of the traditional White Towns route which includes place like Atajate, Benadalid, Algatocin, Gaucin and many more.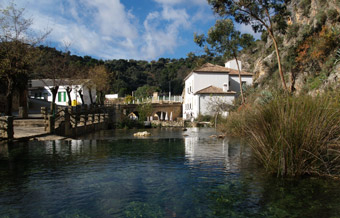 Serranía de Ronda - Andalusia, Spain
Alora, Ardales, el Chorro and Guadalhorce
The River Guadalhorce flows through a fertile valley, of mainly citrus fruits, before reaching the sea at Malaga. This is a valley with traditional villages such as Alkhaurin de la Torre, Alhaurin el Grande, Cartema, Pizarra, Alora and Coin.
The Ardales park is "a must see" with its Conde de Guadalhorce lake, the Desfiladero de los Gaitanes (narrow pass) and the Garganta (throat) del Chorro, - some two miles long and over 700 feet deep, the place where three rivers meet - Turon, Guadalete, and Guadalhorce. It's an ideal place for rock climbing.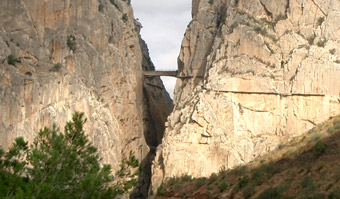 El Chorro natuurgebied - Andalusië, Spanje
Hotels aan de Costa del SOL >>>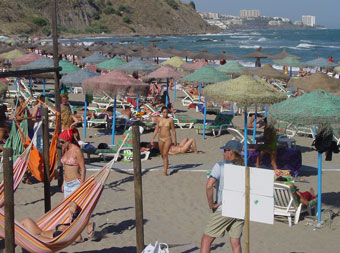 Stranden van de Costa del SOL, Malaga - Andalusie
Here one finds Europe's greatest concentration of Leisure parks, Water parks, Casinos, Golf courses and water-sports ports like Banus.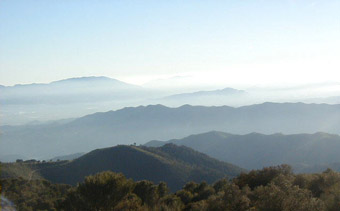 Los montes de Malaga- Andalusië, Spanje
El Torcal de Antequera
Due to its unusual limestone rock formations, Torcal de Antequera Natural Park (Parque Natural Torcal de Antequera) boasts an impressive landscape that is considered to be unique in the world. Its 1,171 hectares have often been used in science fiction films. It is easy to get lost while walking in its labyrinth of rocks, depressions and valleys, passages, landings and narrow passes.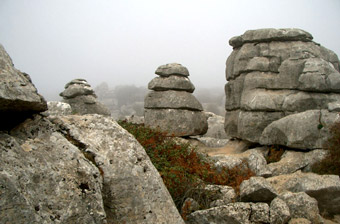 Torcal de Antequera natuurgebied - Andalusië, Spanje